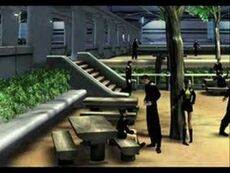 The Multiverse Garden is comprised of mostly instructors and students, who either specialize in one of the school's main paths of study, or dabble in two or more areas. Although the faction has been around for quite some time, quite a few of the students and faculty are newer to the multiverse, having arrived around the time of the Refreshing Wave or later, just like many of its key player character members.
Garden students can elect to take military-style classes, academic classes, or a mixture of both. If a military path is chosen, most students join the ranks of SeeD, SOLDIER, or Jedi upon graduation, each with a different focus in both primary study and combat tactics. All students, regardless of field and specialization, are instructed to work as a team, minimizing their individual shortcomings through the strengths of the whole.
Students
Instructors
Security and Support Staff
Important NPCs
Edit
Paula - Former player character psychic, from the Earthbound/Mother universe. Headmistress of Garden.
Zack Fair - Former player character SOLDIER, and a higher-ranking member. Boyfriend of Headmistress Polestar. 
Xiau - Former second in command to the original headmistress, Quistis. Enjoys a good game of cards and manages SeeD training.
Jason - Former second in command to Solidus in his stormtrooper clone army. Oversees the secruity of Midgar.
Sarah - Garden student and part-time secertary to Paula. Loves purses.
Followers
Edit
SOLDIERs (undergraduate students)
Edit
Seimei
Thunder
Andres
Andrea
SeeDs (graduate students)
Edit
Janet
Saul
Margret
Ducan
Jamal
Chi
Jedi (undergraduate students)
Edit
Ad blocker interference detected!
Wikia is a free-to-use site that makes money from advertising. We have a modified experience for viewers using ad blockers

Wikia is not accessible if you've made further modifications. Remove the custom ad blocker rule(s) and the page will load as expected.